Chiang Mai is a surprisingly international city given that it's a provincial capital far away from any beaches. Part of its charm is the old city, which is surrounded by a moat and fortress wall. It's also considered as the cultural capital of Thailand, and the city is filled with beautiful Buddhist temples (Wats).
This Where To Stay guide is written for short-term visitors in mind. Chiang Mai is popular with digital nomads who tend to spend a month at a time or more there, so these suggestions don't apply as much. If you are planning to staying long term it is still a good idea to get something short term and have a look around before committing to something long term.
Search for Chiang Mai hotels.
Old City
The old city is where all the action is for the casual visitor to Chiang Mai. The area is easily defined by the city wall and moat which forms a square around the city. Inside the moat is the old city which is distinctly low rise and – apart from a few cross roads – the traffic is not overly crazy. Indeed, some lanes are so quiet throughout the day it feels like you are in a small country town.
Each side has a main gate on the wall, with the East Gate (Tha Phae Gate) being the most popular area for accommodation options.
At Tha Phae Gate is Ratchadamnoen Road, which runs east-west to Wat Phra Singh (Gold Temple). On Sunday night this road becomes a walking street for the Chiang Mai Sunday Night Market. This is one of the most lively night markets in Thailand. If you are looking for the most central area or "main street", then Ratchadamnoen Road would be it.
Hostels and Guesthouses
There are lots of options for budget accommodation, and if you are coming from Bangkok or the Thai islands you will be pleasantly surprised with how much cheaper it is here. Around Tha Phae Gate and the streets that lead from the eastern moat there are numerous guesthouses without online booking presence where you can walk in and get a room.
I am familiar with Chiang Mai so I have on occasion just turned up without a booking, but when I am new to a place I usually like to book a room first.
There are lots of cheap places online now so there is no real advantage of showing up without a booking, but to give you an idea of the accommodation available here are some guesthouses I have stayed at by walking in:
– Supreme House: 400 baht for a double fan room.
– Jungala House: 250 baht for double fan room.
– Jonadda Guest House: 250 baht for double fan room.
Another cheap guesthouse I've stayed which has online booking is the Banwiang Guest House.
Search all hotels in the Old City.
Mid Range
The old city has a good selection of mid-range boutique hotels, some of which have pools and are tucked away in peaceful gardens. As there are height restrictions in the old city there are no boxy chain hotels here.
Boutique hotels the old city include Wealth Boutique Hotel Chiang Mai and Baan Huenphen Boutique Hotel.
On Ratchadamnoen Road is the Moondragon Hotel Chiang Mai.

[Moondragon Hotel Chiang Mai.]
Another Ratchadamnoen Road option is MoMo Hotel.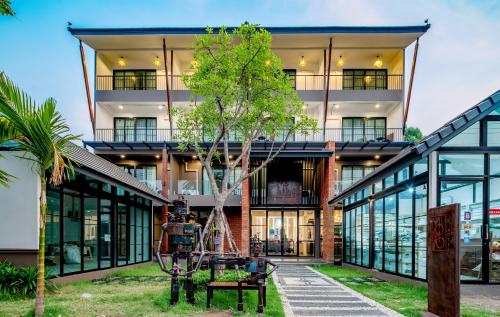 [MoMo Hotel.]
4-star/Boutique
The 5 Star hotels in Chiang Mai are located outside the old city, but there are a number of 4 Star boutique hotels to choose from.
The 4.5 Star Bodhi Serene Chiang Mai Hotel is the highest star-rated hotel in the old area.

[Bodhi Serene Chiang Mai Hotel.]
The Baan Klang Wiang Hotel and 99 The Heritage Hotel are highly-rated 4 Star hotels.
Nimmanhemin
Nimmanhemin refers to Nimmanhemin Rd (sometimes written as Nimmanahaeminda Rd) which is northwest of the old city. It's also referred to as Nimman, which can mean the road or the general area around it.
Nimmanhemin Road is a busy thoroughfare where the Route 11 Superhighway abruptly ends and funnels traffic into this road. Off Nimmanhemin there are lanes that are filled with cool cafes and boutique stores that wouldn't be out of place in Bangkok. This is definitely the coolest place in Chiang Mai, and it's also the epicentre of the digital nomad scene.
If you are a new visitor or only staying a few days in Chiang Mai then I would stay in the old city. Most of the tourist sites are around there, and the bulk of the travel agencies are around there for onward travel.
I would recommend Nimmanhemin if you have been to Chiang Mai before and want to experience the modern arty side of the city, or if you are hunting for an apartment rental in the area.
When coming from the old city the main road is Huay Kaew Road. At the intersection of Nimmanhemin and Huay Kaew is Maya Mall, and Huay Kaew continues towards Doi Suthep (Mount Suthep) – the dominant landmark of Chiang Mai.
Hostels and Guesthouses
There aren't as many budget accommodation options here, and if you are looking for a cheap guesthouse with a private bathroom then I would stay in the old city. If you are a hostel person then there are quite a few good choices here that reflect the boutique-style of the Nimman area.
Yuan Hostel on Lane 7 is one if the best-rated hostels in the area.
Baan Mek Hostel has Japanese-style private compartments instead of dorm beds and is a cool place to stay. Here is my review of the Baan Mek Hostel.
Nimman Zone Suk is a small hotel with a guesthouse feel.
Another good place to look is on Airbnb. I found a room on Nimmanhaemin Soi 9 which was ideal for a few days. If you haven't used Airbnb before you can get a free credit by using this link.
Mid Range
The BEDGASM Poshtel x Cafe @Nimman is probably the ultimate hipster name for a Nimmanhaemin hotel.
Chalnatt Hotel is another hotel that has a distinct arty Nimman vibe.
Boutique/Luxury Hotels
The corner of Nimmanhemin and Huay Kaew Road is anchored by two big hotels (by Chiang Mai standards). Opposite Maya Mall is the Eastin Tan Hotel Chiang Mai. The hotel is set in a plaza with market shops and cafes. Rooms on the western side offer great views of Doi Suthep.

[Eastin Tan Hotel Chiang Mai.]
On the other corner is the 5-star U Nimman Chiang Mai on 1 Nimmanhaemin Road. This is next door to the One Nimman shopping centre, and sharing the same address.

[U Nimman Chiang Mai.]
Yantarasri Resort feels like a beach hotel and is conveniently located off Nimmanhaemin.
Akyra Manor Chiang Mai offer modern 5-star suites.
Night Bazaar
This covers the area between the eastern wall of the old city and the Ping River. I've spent several months in Chiang Mai, yet I have rarely stayed in this area. I am always surprised with how busy it is when I go there. Most of the luxury 5-star level hotels are in this area as there is not the same height restriction on buildings.
There are two main roads that connect the old city to the night bazaar area. Thapae Road is a busty one-way street the runs from the Ping River towards Thapae Gate.
The other road is Loi Kroh Road, which is a one-way street from the old city to the night bazaar. Loi Kroh Road is where most of the expat pubs and girlie bars are. It's another world away from the Nimman hipster scene.
Hostels and Guesthouses
Soi Sabai Guesthouse is located between the old city and the night market area, so you are splitting the difference if you like both areas.
Mid Range
Strips the Poshtel is a modern hotel/hostel hybrid with dorm rooms and private rooms available.
Hotel Montha is one of the best-rated 3 Star hotels east of the Tha Pae Gate.
Luxury
Most of the luxury hotels in Chiang Mai can be found in the Night Bazaar and riverside area, with a few resorts further out in the hills.
Near the Night Bazaar the pick of the luxury hotels are the Le Meridien Chiang Mai Hotel and the Shangri-La Hotel.

[Shangri-La Hotel, Chiang Mai.]
Anantara Chiang Mai Resort is not far from the market area, situated on the Ping River.

[Anantara Chiang Mai Resort.]