Goa is the smallest state in India, with a coastline of approximately 160 kilometres facing the Arabian Sea. Despite its diminutive size its a bit of a pain to get around due to the roads and its geography. The state is comprised of two districts: North Goa, and South Goa. When people are planning a trip to Goa they are confronted with a decision of whether to stay in the north or south.
I had this decision to make on my first trip to Goa. On that trip I was still undecided where to stay even when I was on the train from Mumbai to Goa. In the end I picked South Goa, so this time I didn't need to make a choice.
North Goa includes all the beaches to the north of the capital city of Panaji (Panjim). The busiest beaches in Goa are in the north, but there is enough variety to find a quiet beach.

[Image via Wiki.]
I have good memories of the south, so I was wondering how the north would compare. I'll pick my favourite at the end of the post.
I stayed for a week and picked out the best places to visit in North Goa. These are my observations of each place I visited.
Anjuna
One of the hard parts about planning a Goa trip is deciding where to stay. Each beach area has its own flavour, with different tribes aligning themselves to different beaches. I picked Anjuna to start off with as it seemed central enough without being the epicentre of tourism.
Anjuna is most famous for its giant flea market held every Wednesday (billed as the world's largest flea market). I visited this market on my previous trip when I stayed in the south, but I didn't stick around to explore Anjuna proper. If you are planning to visit Anjuna then make sure to see this.
Over the years I've read numerous articles about how Goa has been overdeveloped and lost its charm. With this in mind I was surprised to arrive in Anjuna to find no high-rise developments of any kind on the beach. Sure there is a rubbish problem everywhere, and poor urban planning with roads and infrastructure. This is a problem endemic across South and Southeast Asia. The authors of these articles need to travel more and see what over-developed really looks like.
The main problem I found with Anjuna is the encroachment of beach restaurants on the sand. Some of them are built right up to the high tide water line.
There is one building in particular that has paid for its incursion with the concrete stairs having been washed away.
Not that there is anything wrong with beach shacks, as that is part of the appeal of Goa. They just need to be controlled on narrow beaches.
Maybe Goa should look to Kerala's example, who have ordered that apartment blocks built illegally in coastal zones need to be demolished.
It was in Anjuna where I had my first "you should have been here 10 years ago" conversation of the trip. I was in Goa 13 years ago, so I did see it. On that first trip someone also said to me "you should have been here 10 years" as well.
I think every time you come here some one is going to say that to you. Anjuna was one of the original hippy beaches, and looking at the old photos of Goa in the Hippy Trail era I can see why there would be nostalgia for the days of old.
I'm now getting to the age where I could technically tell people "you should have been here 20 years ago", but I don't want to become that guy. I do though invite old-timers to tell interesting travel stories about their travel in the 60's, 70's, and 80's. The good story tellers don't have to tell you that you should have been here 10 years ago.
I booked my trip late and couldn't find anywhere decent by the beach, so I booked a place inland. The Paradise Guest House turned out to be a good choice as it was a nice place. Here is my review.

[Paradise Guest House – Anjuna.]
My guesthouse happened to be across the road from an amazing burger shack that was always busy.
It was about 15 minutes walk from my guesthouse to the beach. I visited the beach at sunrise and sunset, and went looking around elsewhere during the day.
The good thing about staying at party beaches is that in the morning you get the beach to yourself.
Vagator
Next to Anjuna is the beach area of Vagator. This was about 40 minutes walk from Anjuna, so that gave me a good way to see the back roads.
In many ways Goa reminds me of Bali. Both are small states/provinces that are referred to instead of the specific location (I'm going to Goa instead of I'm going to Anjuna). Both have have grown haphazardly over the years with no real future planning. A farmer will sell a block of land and a new hotel will be built there, all the while using the same laneways that were made to serve a farming community. And on these small backroads there will be some random western-style cafe or restaurant that wouldn't be out of place in the hipster neighbourhood of your city.
And while new places are popping up there is not always the basic infrastructure to go with it. Seeing trucks delivering water is reminder that water from your tap has to come from somewhere (and a reminder to have a quick shower).
In Vagator I visited Bombay Coffee Roasters, which I visited on the strength of its cool name.
When I visit new places I always wonder if I could live there. If you were to live here you would need your own transport, as walking from beach to beach is a hot and sweaty business.
Vagator Beach is smaller than Anjuna, and it appeared to be frequented by Indian families and couples. It was distinctly noticeable how much the demographics have changed since my first visit, with more Indian holiday makers here.
From Vagator Beach I walked over to Ozran Beach. The walk was via a bush path and more small back-roads. It goes through the area of Small Vagator, where there are more cool bars and cafes. And cows.
Calangute and Baga
Calangute and Baga are two separate areas that have merged to make one super tourism area. They are not really distinguishable from each other unless you look up the boundary on Google Maps.
Calangute arguably has the best stretch of beach in Goa, and as such these sort of beaches are always first to be developed. This is where most of the package holiday makers from Europe end up at. I remember Calangute being advertised in high street travel agent windows in London.
I got the bus here from Anjuna (via two local buses) so I didn't stay here. I was intrigued though to what the Hotel Orfil was like.
Baga Beach is the at the northern end of Calangute.
I went inland from here to see what the township had to offer.
There are more touristy things to do here, such as The Snow Park.
I love the Indian accent and their use of English. I thought Rule 6 for The Snow Park was perfectly worded – "If the chillness does not suit you, take care of yourself." I might just apply that to situations in everyday life (not chilled? Remember Rule 6!).
I ended up walking along the Baga River further inland. It was much quieter along here, and I found some interesting cafes and places to stay. Places you would stay long term if you had a motorbike.
Walking around and admiring the little churches among the coconut tress I felt very happy to have come back to Goa. Despite all the stories of paradise lost, it's still a paradise.
Whenever I get asked for a selfie I ask for one in return, so I took a selfie with these cool gentleman on my wanders in Baga.
Arpora
Arpora is inland and behind Calangute/Baga. I noticed more foreigners here who appeared to be here long term (carrying bags of groceries and not in swimwear). That would make sense to be away from the immediate mayhem on the beach.
There is a Saturday night market here if you can't make the Anjuna one (or if you just like markets).
Mandrem
After Anjuna I moved camp further north to Mandrem and stayed at Ashvem Beach. This is a small beach village area with a mix of visitors. I stayed opposite the beach at the WellnessInn.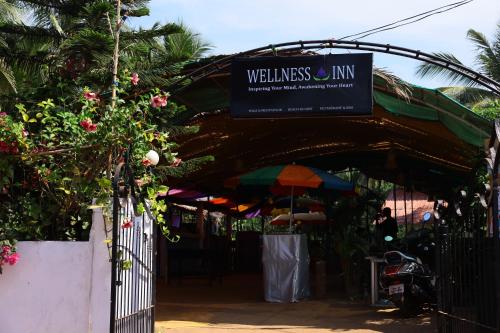 [WellnessInn – Ashvem Beach.]
They offer yoga and meditation courses, and it has a cafe where I had the best coffee in Goa on my trip.
This is another great stretch of beach, and by now I was just marvelling at how many good beaches there are here.
I had a bit of a laugh at this sign, though when such signs are erected it usually means something bad has happened before.
The next beach north is Mandrem Beach. This is separated from Ashvem by a tidal river, so you will need to wade through it at high tide. There is a fishing fleet here in the morning, and I saw locals and foreigners buying fish from them while they were organising their nets.
Mandrem Beach is at the southern end of Arambol Beach, which was my next destination.
Arambol
Arambol is at the north end of the most developed beaches, and it's famous for being a hippy enclave. This wasn't the original hippy beach, but over the years the hippy community have moved further north as they became priced out and overrun by bigger crowds.
Arambol has a wider and longer stretch of sandy beach compared to Anjuna, and there are more things to do in the immediate beach area.
The westerners there reminded me of some of my friends who live in the hippy enclaves of Northern NSW in the Byron Bay area. At sunset there is a market that sets up along the beach.
Lots of interesting places to eat here, and I found the other great cafe – Open Heart Cafe.
It was in Arambol where I ran low on cash, so I walked into the main town about 20 minutes inland where there is one ATM. Everyone had the same idea as me as there was a queue for the bank.
Things have changed considerably since my first visit, as wifi and mobile payments acceptance is wide-spread.
I can see how people end up staying here longer than planned as it's a respite from the chaos of urban India.
Apropos of nothing, I remember when I was spending time in Phoenix, Arizona and I was continually amazed at all the cactus in the desert. I was told that you know you become a local when you stop taking a photo of cactus. I thought of this when I realised I was taking an awful amount of photos of cows.
At the northern end of the beach is a rocky point that hides another small beach behind it. There is a fresh water lake (Sweet Lake) where people go swimming.
In Arambol I stayed at the Durga Resort. This was a good place tucked away from the main street with an alley access to the beach.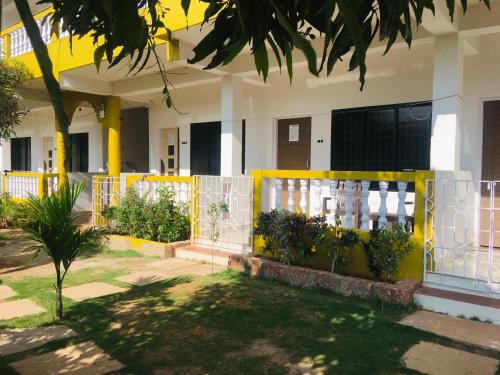 Even though I'm not a hippy this was my favourite area of North Goa, so I'm glad I mixed up my areas to stay.
Getting to and around Goa
I arrived in Goa via Goa Airport. There is an airport bus that goes directly to Calangute via Panaji.
To get to Anjuna would require another two buses after that, so I took the easy way out and got a pre-paid taxi. There is a counter at the arrivals area that displays the prices for the major areas throughout Goa. The price for a taxi from Goa Airport to Anjuna was 1515 INR with taxes ($21.20 USD).
The taxi ride took 90 minutes, and it was a hair-raising ride that involved the driver speeding down narrow back lanes while constantly changing his music selection on his phone.
When I left the beaches I stayed in the capital city of Panaji before getting my flight. As I was not in a rush I tried out the local bus service. To get from Arambol to Panaji involved a local bus from Arambol to Mapusa. That bus was so overloaded with passengers that I was barely able to stand straight.
At Mapusa there are express buses to Panaji, and then from there you can transfer to another bus for the airport. This degree of difficulty in getting to the airport would disqualify Goa as a place to live for me. It reminds me of Pai in Northern Thailand, where if you want to live in a beautiful place and don't need to travel often then this isn't a deal breaker.
Something that may improve this is a new expressway that is being built from the airport that bypasses Panaji and continues to the north. This is part of the new Mumbai-Goa expressway. That still doesn't fix the issue of the narrow roads to the beaches.
Also worth watching is the new North Goa Airport at Mopa. This would make Arambol more accessible, so maybe it's going to change again in 10 years.
Another more tantalizing news report is the proposal to build a metro system that would connect North and South Goa. The reports are light on details, and like the Bali railway it appears to be a pre-election pledge. Even so, the thought of a railway system here would make living here more appealing.
Getting around Goa was a pain. As I mentioned at the start of this post, the geography of North Goa makes getting around a bit harder. There are river systems that break up the beach areas, so instead of being able to get a direct bus, you have to go inland and transfer.
I saw in Bangalore that Uber is in India, but it's not in Goa. The taxi mafia union is strong here, and they have been able to block Uber and Ola from setting up here. Goa would be ideal for a motobike taxi service (like Grab and Go-jek in Southeast Asia), so hopefully there are changes in the future with this.
North or South Goa?
Up until Arambol I was still thinking that I liked South Goa more. To do a true comparison I would have to visit North and South on the same trip. My South Goa trip from 13 years ago has become a legend in my own mind, so it's not really fair to make a comparison. I stayed at Palolem Beach in the south, and it remains as my favourite place in Goa. It had more of a backpacker vibe when I was there, but maybe it has changed too (and I will then be able to tell young backpackers "you should have been here 10 years ago"). I would not object to going back to Palolem again, perhaps combining it with a visit to Gokarna and other beaches in Karnataka state.
Either way, I don't think you can go wrong with whatever district you pick, and if you miss one it's a good excuse to come back.